CORK N BOTTLE
Crescent Springs, KY
An article in Cincinnati Refined titled "There's A Vintage Bourbon Library Hiding In A Strip Mall In Crescent Springs, Kentucky" was all I needed to read before planning a trip to Crescent Springs to visit the Cork N Bottle.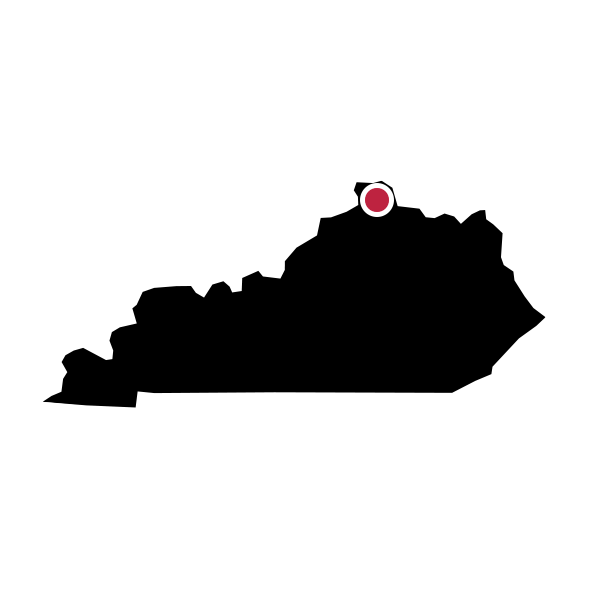 It's a two hour drive from Bardstown, where I had been staying for the 2018 Kentucky Bourbon Festival. Having visited hundreds of liquor stores over the years, I was familiar with the store, but had yet to visit it.
Earlier this year the Cork N Bottle initiated their Antique Bourbon Program wherin tastings are held and rare bottles of spirits are sold. This would all have been illegal prior to 2018 if it weren't for the passing of HB 100, the so-called Vintage Spirits Law. The law authorizes the individual sale of rare bottles of spirits in Kentucky, enabling a new generation of bars and liquor stores now able to legally offer vintage spirits purchased from private parties.
It's no secret that prior to the passage of HB 100 various bars and liquor stores in Kentucky offered vintage spirits for sale, but if they were, it was technically illegal for them to do so. As of this writing, only North Carolina has passed a law that allows the purchase of vintage spritis from private sellers. In Kentucky, only the Cork N Bottle and Justin's House of Bourbon in Lexington have wholeheartedly embraced the new law as liquor stores. Bars like the Silver Dollar and Haymarket have embraced the new law as well, selling vintage spirits by the glass.
The Cork N Bottle sits amidst a sea of seemingly identical strip malls in upstate Kentucky aside nail salons and barbecue restaurants. Founded in 1964 by Gordon Hue, it has recently undergone a legal dispute over a few valuable bottles of whiskey amassed by the family over the years. In 2015, it defaulted on its loans and was sold to 3G's Inc., which owns a number of liquor stores in the region.
The store appears to have fared well in recent years in part due to the recent bourbon boom. It has been home to Ed Bley, aka "The Nicest Man in Whiskey", who bears a fair amount of responsibility for resurrecting the struggling Cork N Bottle post-lawsuit. Ed began doing a significant number of single barrel bourbon selections for the store, building up a cult following among bourbon enthusiasts. His passion for bourbon led him to the realm of blending, taking multiple whiskies and creating something uniquely his own. One of the early fruits of his labor was the highly regarded Old Baldy, a blended whiskey that now fetches over a thousand dollars per bottle on the secondary market. Subsequent Baldy releases were equally successful, driving Ed to consider blending full time, ultimately leading him to leave the Cork N Bottle to create his own blending company Rising Tide Spirits.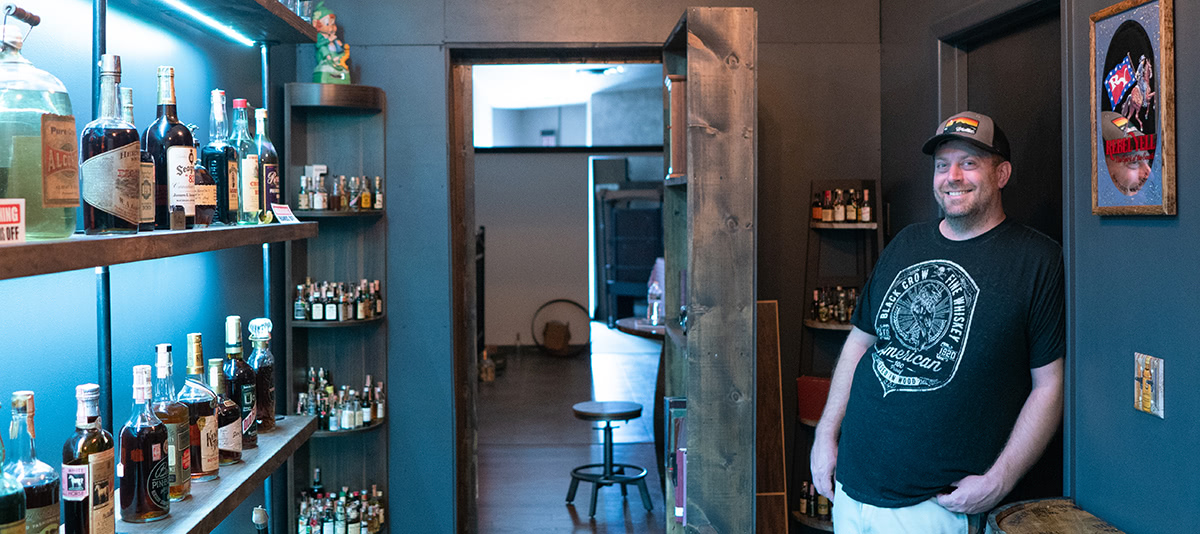 Vintage Whiskey Curator Brad Bonds
Ed's departure will be a blow to the store for sure, but the Antique Bourbon Program in partnership with Mr. Bonds is there to help bridge that gap. Brad spends his time tracking down vintage and otherwise rare bottles of spirits and make them available to purchase and taste in his Vintage Spirits Library.
I met Brad at the Cork N Bottle on humid Kentucky afternoon. We promptly exited the store and walked a few doors down to what appeared to be an entrance to a nail salon. There was no salon within, but rather a small table set up for tastings in front of a bookshelf door leading into a room containing a collection of vintage and rare spirits. The blue walls give the collection an otherworldly quality that enhances its mystique. Clearly still a work in progress, Brad has been working hard converting the space from a nail salon to what it is today. It's coming along nicely, although he does have a story about some unusual (read creepy) discoveries made in the space that took some work to remove during the renovation. If you have a chance to sit down with him for a tasting, feel free to ask about it if you dare.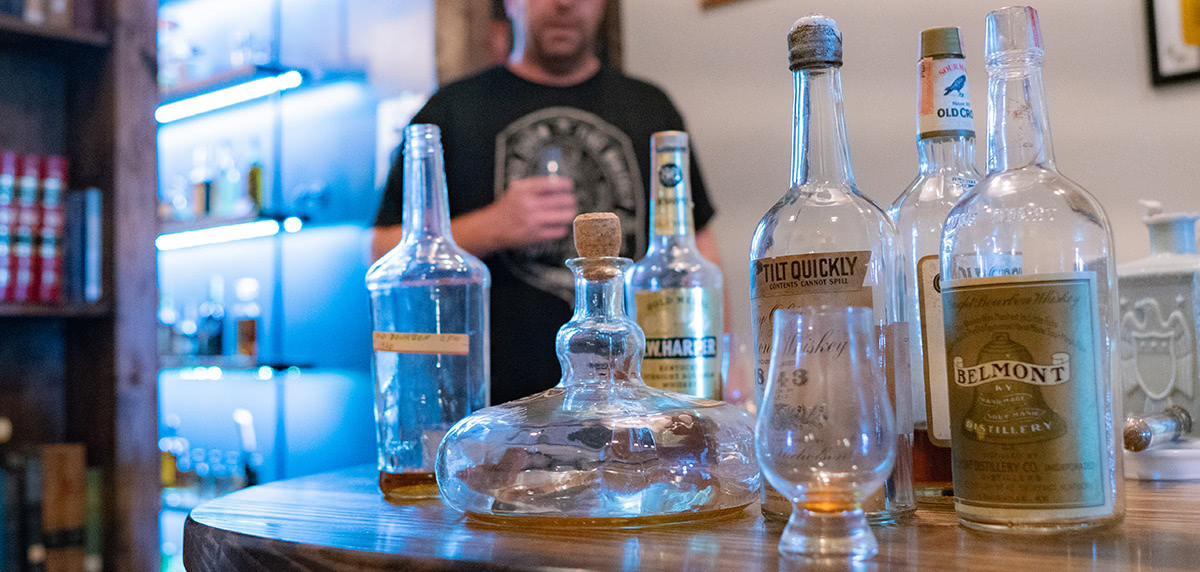 Some of the bottles Brad poured for our tasting
There is a flat fee for the tasting, which officially offers four pours from open bottles in the collection. I get the impression that most bottles don't last long, so the specific bottles Brad has open will likely fluctuate. He started me on an Old Crow bourbon from the 1970s. It's a great bourbon, distilled by National Distillers, producers of a wide variety of highly sought-after vintage whiskies from the 1960s to the 1990s. Like an experienced bartender, Brad played the part of educator and guide equally well, learning my personal tastes and pulling out bottles that he thought I'd particularly enjoy from hidden boxes and shelves.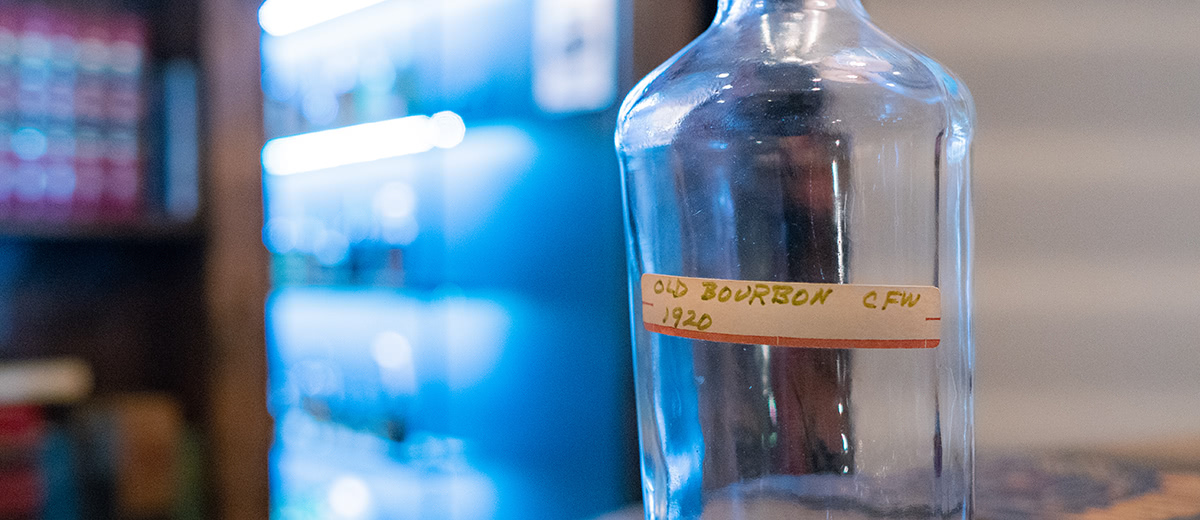 A mysterious bourbon bottle from 1920
Prior to my visit, I had heard whiskey writer Fred Minnick speak highly of some Old Jordan bourbon he tried with Brad in the library a few months prior. It was one of the whiskies that I was most excited to try with Brad, but he sadly informed me that it had been bottled up and sold as samples a few months earlier. He did have some bourbon he found at the same place he found the Old Jordan however, and thought it to be a sufficient alternative. All that's written on the label was "Old Bourbon 1920 CFW" by a pharmacist that passed away in the 1960s. The actual source will likely remain a mystery, but I'm grateful to Brad for sharing something with me that I'll likely never encounter again in my lifetime.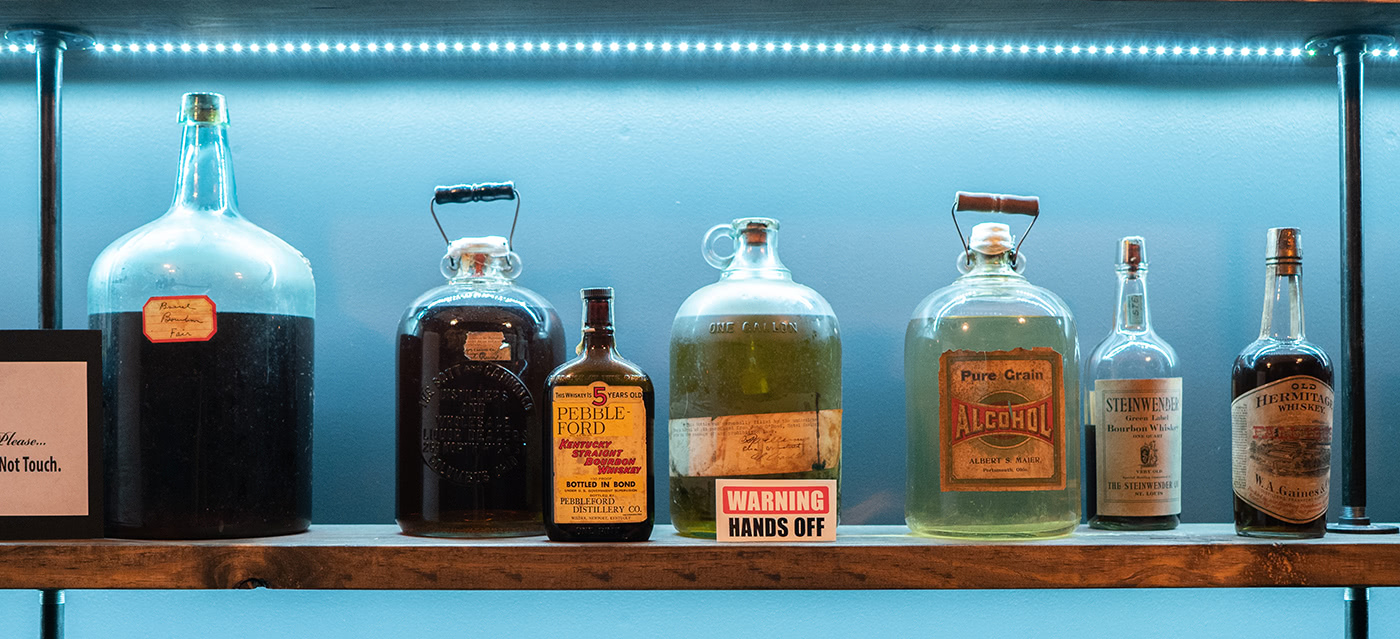 Strange and unusual vintage spirits line the walls of the library
While we drank, I explored Brad's collection, looking for something unusual at a reasonable price point that I just couldn't live without. The bottles don't have prices, and most seem to be negotiable. Some bottles are so rare that the price is kept in the tens of thousands, primarily to ensure that he gets to keep it in his collection as long as possible.
After a few hours of drinking and talking whiskey with Brad, it was time for me to start the drive back to Bardstown to the bourbon festival. I can't emphasize enough that it was absolutely worth the visit, and Brad couldn't have been a better host. I may have even found a bottle I had been looking for for years that I was only able to find amidst Brad's collection.
Tastings can be scheduled by emailing Brad directly at b.bonds@corknbottle.com.
Check us out on Instagram for more pictures.